Graphic Overlays
OEM Quality Branded Dispenser Graphics
---
Product Information
Petrographics is proud to offer high-quality Graphic Overlays for all major fuel dispenser types. Unlike other Non-OEM replacements, our overlays are built to withstand the destructive elements of the fueling environment. Because of the easy-to-clean surface coating, our Graphic Overlays last for years and clean up to look brand new with little effort – boosting your curb appeal and saving your staff valuable time and energy.
---
Quality Construction
Each overlay is constructed using a chemical and UV resistant polycarbonate with an abrasive resistant hardcoat that makes the overlay easy to clean and prevents minor surface scratching. After printing the ink layers, the overlay is high pressure laminated with 3M construction adhesive and blackout PET film to ensure complete and long-lasting coverage over existing graphics.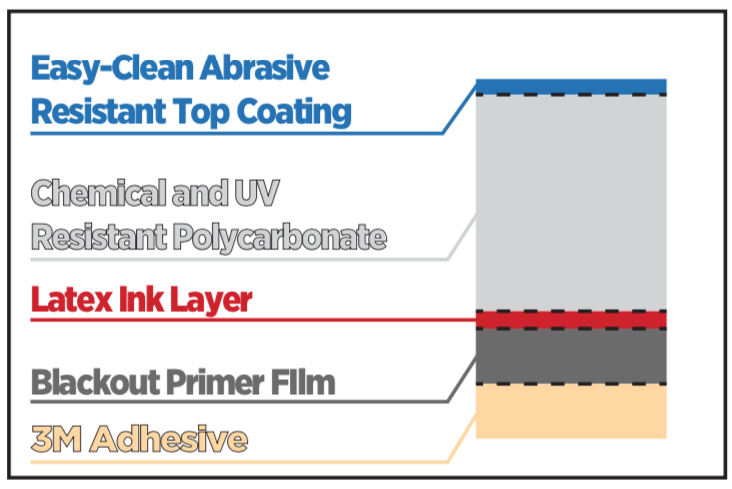 ---
Complete Graphics Solution
OEM pump manufacturers do not provide all of the graphics elements necessary to fully re-image or refresh the dispenser face. We offer complete solutions that include traditional overlays, and custom sized overlays that accommodate other exposed areas of the dispenser bezel.
---
Technical Data
UV Stabilized Polycarbonate
20 mil Overall Thickness
Durable Outdoor Printing
Hard Coated AR Finish
Cut to Dispenser Specification
Blackout Primer Film
3M Glue System
---
Product Highlights
High Quality Construction
Less Cost than OEM Replacement
Boosts Curbside Appeal of Dispensers
Resistant to Surface Abrasion and Stains
Custom Dispenser Overlays Available
Gives Complete Coverage Over Old Graphics
Keeps Graphics Permanently Adhered
---
Frequently Asked Questions
Each of our Graphic Overlays has been designed with the gas pump in mind. Gasoline and UV exposure quickly degrade inferior graphics products, leaving your image looking run-down. We use materials designed to withstand the most destructive elements of the forecourt environment.
Selecting the correct Graphic Overlays for your dispenser is easy with our illustrated selection catalog. Once you have found the generic overlays you are looking for, you can use a specified brand code to determine the exact products that you are looking for.
We take your image seriously, which is why we guarantee that our overlays will adhere to your brand standards. If any of our imaging products are found to be unacceptable by your brand, we will take them back and offer you a full refund.
The chemical resistant 3M adhesive on the back of each overlay will keep it permanently stuck to your pump, and the UV stabilized plastics provide resistance against UV damage. Without additional Dispenser Defender protection, our overlays will keep your image looking new for 3+ years.
You can protect your overlays from intentional abuse by installing our Dispenser Defender protection shields. Each shield protects your graphic overlays and keypads from damage caused by scratching and graffiti, as well as offering additional UV protection.
We can create custom graphic overlays for any dispenser model. If you know the exact color specifications for your brand, and have the corresponding logo and/or company artwork, we can create a stunning a graphic overlay package for your fuel dispensers that will boost your curb appeal and your profits.